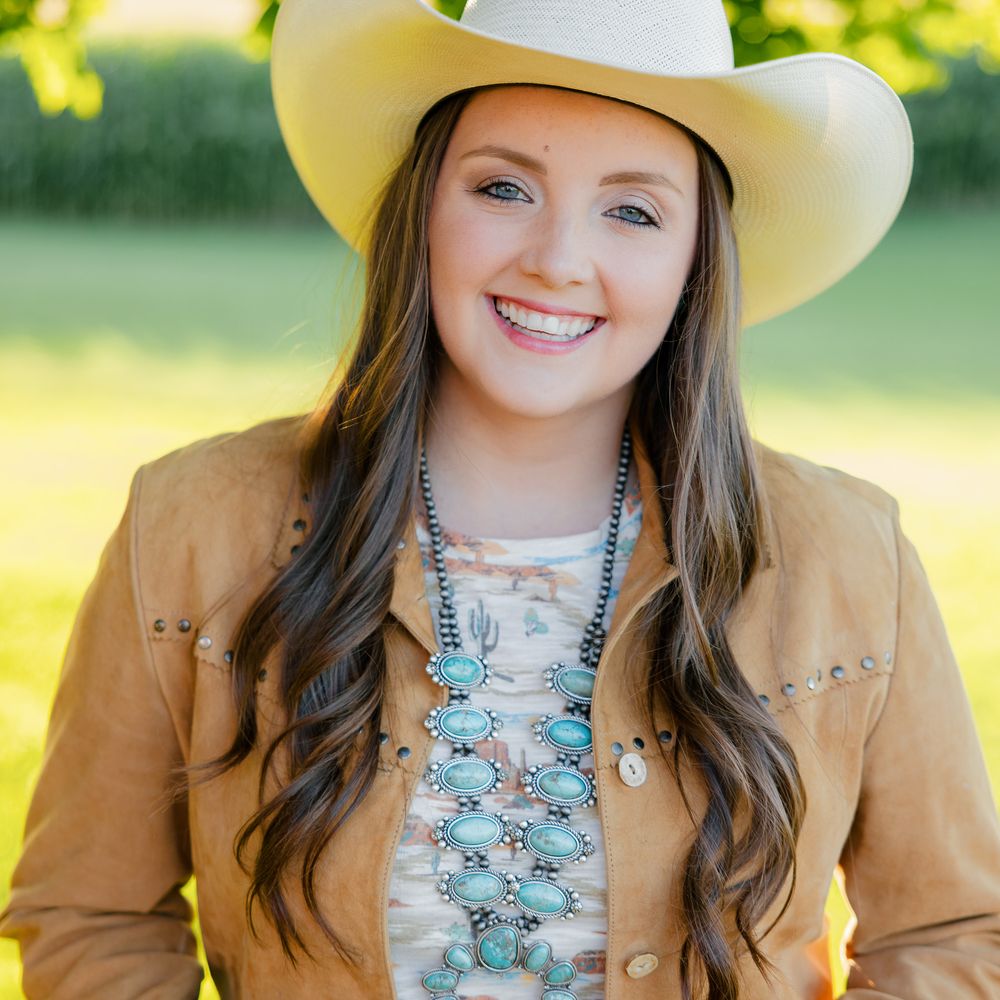 About Naomi
Naomi is a young cowgirl that hails from a small farm in Ontario. Her family was involved in the rodeo life which led her down the path of country, western and gospel music. In the past 15 years she has traveled across the countryside in Canada and the United States performing for thousands, while being rewarded with kindness and admiration from folks of every age. Naomi's love for traditional country music lead her to self-taught yodeling, which she incorporates into her performances for an overwhelming response.

​Naomi is excited for the next chapter of her life both musically and personally, with her husband, Nicholas, by her side. He is a local farm boy and also loves to sing and travel with Naomi. They were married on August 22nd, 2020 at his family farm, only ten minutes away from where Naomi grew up. Naomi was raised on a small farm in Beeton, Ontario, Canada with her mom, Lynda and her dad, Eugene. She has a sister, Amber and two brothers, Hayden and Westin. Raised in a rodeo family, Naomi has a love for horses and enjoys riding at any opportunity when she's not on the road. She also has a great appreciation for western cowboy music and her strong faith has guided her to gospel music. Naomi attended Georgian College for four years and graduated in Spring 2019 with an advanced diploma in Denturism. Naomi has enjoyed pursuing music full-time since graduating college performing at churches, jamborees, fall fairs and festivals and in 2019, the opportunity to tour across Canada with the Scott Woods Band, performing 82 shows in 85 days that year across the country. In addition, she has toured annually in South Texas and Florida for the Winter Texans/Snowbirds performing one or two shows every day in January and February.
Naomi began singing at the age of 6 at rodeos, fairs, festivals and talent contests that her parents, or grandparents would take her to almost every weekend throughout the summer. She started off singing with her brother, but decided to perform on her own singing traditional country music influenced by Leann Rimes, Dolly Parton and Loretta Lynn. One day she discovered a young girl on TV that yodeled and Naomi decided she wanted to learn to do it too, so her grandpa bought her an instruction book and cassette tape and Naomi taught herself to yodel at only 8 years old.
​
A couple years later, Naomi recorded her first album titled, Cowboy Sweetheart, followed by The Yodelin' Cowgirl which came out only 7 months later. July 2009, her third album was released titled, Ridin' High and was awarded the Best Traditional Yodel Album of the Year by the National Traditional Country Music Association. Her fourth CD, Lookin' Back was recorded in Nashville and had Grand Ole Opry Star, Jim Ed Brown perform two duets with her on that record. Next up was Lovin' The Ride featuring Jim Ed Brown and Richard Sterban from the Oak Ridge Boys. After three years of recording country albums, Naomi released a gospel CD called Blessed Trails featuring the one and only – Vince Gill. Naomi then released a collection of her yodeling songs titled Yee Haw Yodelin' followed by her first ever DVD – The Heart of A Cowgirl featuring live performances and tapings from television shows she had appeared on. Stayin' On Track came out in the summer of 2014 with a great mixture of traditional country music. Another yodeling CD was added to her collection titled Just Yodelin'. In 2015, Yodelin' Christmas was released featuring Whisperin Bill Anderson as her duet partner with a Christmas song he had wrote as well as other Christmas classics and even a Christmas yodeling song. Naomi recorded another country album in Nashville at the beginning of 2020 titled, You're Lookin' at Country which for the first time ever, features an original song Naomi wrote, as well as other traditional country favourites and some yodeling. Most recently, a full music collection release as a USB Flashdrive was released in 2023 with all 11 of Naomi's albums - since she was ten years old, over 100 songs total. All albums can be purchased by going to the STORE on this site.
Naomi has done a variety of television shows over the years including being a regular on RFD TV network, shows such as; 10 years on Midwest Country, 3 seasons of the Shotgun Red Variety Show, the Penny Gilley Show and was featured in the top 200 of Canada's Got Talent in 2012. Also, among the many accolades received the past years Naomi cherishes the Female Vocalist of the Year by the Valley Star Awards in Texas 2020, 2022 & 2023, the Traditional Country Rising Star for the Josie Awards, the Havelock Jamboree Fans Choice Award, The Breezeway 2020/2021 Female Entertainer of the Year, the BC Cowboy Heritage Rising Star and the Western Music Association, 2 time Youth Yodeler of the Year. A proud Canadian, Naomi has received awards from Municipal, Provincial, and Federal Governments for her outstanding achievements in music. In the spring of 2019, Naomi's video went viral and reached and incredible 14 million views on Facebook with her rendition of Hallelujah. At a young age, Naomi has made some impressive contributions to the industry which include opening for Gene Watson, David Frizzell, Moe Bandy, Rhonda Vincent, Charlie Daniels, Jason Aldean, Marty Stuart, Jim Ed Brown, Bobby Bare and many others.
Naomi will capture your heart as she savors the many wonderful people that have embraced her.

Awards & Accomplishments
14 million views on viral Facebook video of "Hallelujah"
Recorded 11 CD's featuring duets with Jim Ed Brown, Bill Anderson and VINCE GILL
Female Vocalist of the Year for the Valley Star Awards in Texas 2020, 2022 & 2023
Regular feature on RFD TV's- Midwest Country Show, Penny Gilley Show & Shotgun Red Variety Show
Opened for Moe Bandy, Marty Stuart, Charlie Daniels, Gene Watson, Bobby Bare, Jason Aldean, Rhonda Vincent, David Frizzell, Leona Williams and many others
Traditional Country Rising Star from the Josie Awards in Nashville 2016
Top 20 of Canada's Got Talent 2012
Havelock Country Jamboree "Fans Choice Award"
The Breezeway 2020/2021 Female Entertainer of the Year
Barn Dance Historical Society - Heritage Award
Two-time Youth Yodeler of the Year by the Western Music Association
Best Traditional Yodel Album of the Year by the National Traditional Country Music Association
Albums
2007 Cowboy Sweetheart
2008 The Yodelin' Cowgirl 2009 Ridin' High
2010 Lookin' Back with Jim Ed Brown
2010 Yee Haw Yodelin'
2011 Lovin' the Ride with Jim Ed Brown and Richard Sterban (Oak Ridge Boys)
2012 Blessed Trails with VINCE GILL
2013 The Heart of the Cowgirl DVD
2014 Stayin' on Track
2016 Yodelin' Christmas with Bill Anderson
2017 Just Yodelin'
2020 You're Lookin' At Country
2023 Full Music Collection: USB Flashdrive
2023: Acoustic Show Christmas DVD